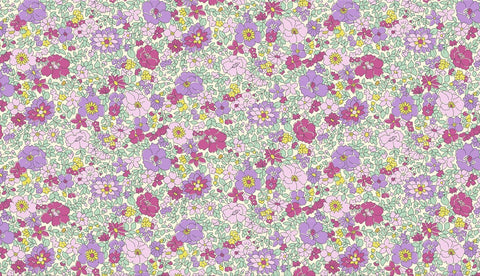 Liberty
Liberty Flower Show - Arley Gardens
FLOWER SHOW COLLECTION Summer 2020
Arley Gardens is a beautiful pink and purple shaded floral print from the Liberty Summer Flower Show Collection. It is one of 15 fabrics in this new 'Best in Show' collection. 
Traditionally screen-printed onto soft Lasenby cotton, the collection includes quintessential 1930's florals, reimagined for 2020 from the huge Liberty print archive.  It illustrates Liberty's rich heritage of floral design and the collections showcases botanical prints in a vibrant colour combination of fuchsia, bubblegum and electic yellow against cool ultramarine and turquoise - ideal for summer.
Minimum order quantity is half a metre.  This Flower Show collection is sold in HALF METRE increments. The price is per HALF METRE. Enter 2 in the quantity box to buy 1 metre etc. All orders will be cut in a continuous piece.

100% cotton
Suitable for all all sewing projects including crafting, patchwork and quilting and dressmaking. (Not intended for children's pyjamas)

Width: 112cm / 43 inches      Weight: 200 gsm      100% cotton